Yoyo Bear Time Travel Cards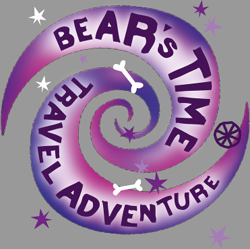 The Yoyo Bear Time Travel cards first appeared in the UK in December 2015. The set was split into two series. There were 80 cards in the initial series, with the first card depicting an event 65 million years ago, with the last event in 1991.
Some of the subjects covered proved controversial, leading to many of the cards being modified. Several of the cards have even been changed twice. This has caused this set to become the most collectable yet.
The set has just been released in the USA (as of March 2019).
If you are missing any of these cards in your collection, it is possible to buy them here.
The image below shows the first six cards. Hovering the mouse over the numbers below (or tapping numbers if on a tablet or phone) will display the remaining cards. These are all the original issues. For the variants, see this page. For the second series in the set, go here.
| 1 | 2 | 3 | 4 | 5 | 6 | 7 | 8 | 9 | 10 | 11 | 12 | 13 | 14 |
| --- | --- | --- | --- | --- | --- | --- | --- | --- | --- | --- | --- | --- | --- |