Yoyo Bear Extinct Species Cards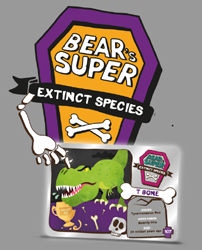 The shiny Yoyo Bear Extinct Species cards were added to the Super Species cards and first appeared in Summer 2015. There were 10 shiny cards in this second series, giving the Super Species set a total of 115 cards.
If you need any cards to complete your collection, it is possible to buy them here.
The image below shows the first six cards. Hovering the mouse over the numbers below (or tapping numbers if on a tablet or phone) will display the remaining cards.
As far as I know, there were no variations to these cards.